Crypto Donations for Nonprofits: 5 NPOs You Can Donate Bitcoin To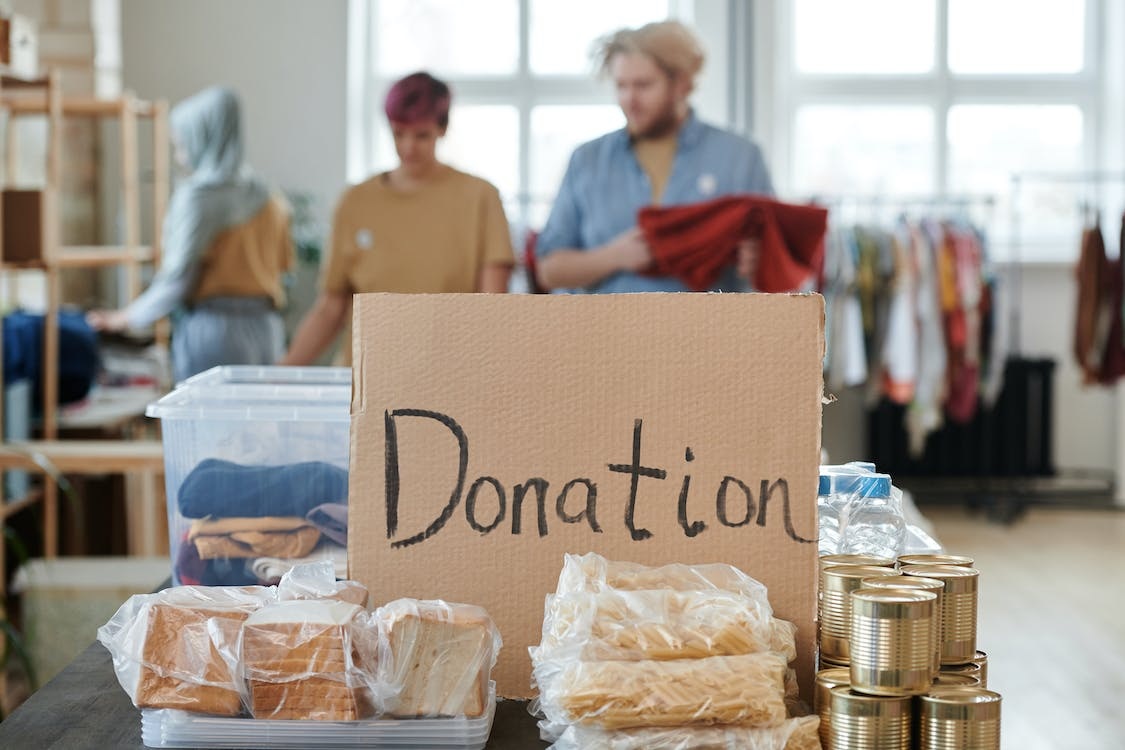 Donating Bitcoin and other cryptocurrencies is a great way to support causes you believe in. In this article, we highlight five Non-Profit Organizations (NPOs) that you can support using your Bitcoin.
What Are Non-Profits?
Non-Profit Organizations are non-business entities that are set up to fulfill a goal or support a cause without the need for its activities to make a profit.
Nonprofits are usually set up by a group of people and can have a committee or board that runs its operations instead of being owned by an individual. This lack of sole ownership is one of the key characteristics of nonprofits.
Other characteristics of nonprofits include:
They source all or most of their funds from donations or grant applications.
They have to ensure transparency in all their operations and accounting so anyone can request financial statements and project reports to ascertain transparency.
Their staff includes paid team members and volunteers who give their time, resources, and skills to ensure the organization runs smoothly.
Activities run by the nonprofit solve issues for a community or a cause.
Nonprofits are tax-exempted by governments.
While nonprofits play a big role in ensuring that key societal issues like poverty, environmental degradation, low levels of education, species loss, and more are solved, they also face some challenges.
One of the major challenges that nonprofits solve is the lack of funding.
Since most nonprofits have no source of income generation, they mostly rely on funding from donors, individual donations, in-kind contributions, or applying for grants. However, when such sources of money run out, most or all of the activities in the organizations come to a halt.
Nonprofit crypto donations can play a role in ensuring that NPOs stay on their feet and support the communities or causes they work with.
Through Crypdonate, which is also a nonprofit organization, you can support many nonprofits working in different countries by donating Bitcoin and numerous other digital currencies to a cause you care about.
Since most of the NPOs don't have the technical knowledge or manpower to set up Bitcoin donations, we help them to gain access to the Bitcoin community at no cost and charge no fees on any of the donations given through our platform.
5 NPOs You Can Donate Bitcoin To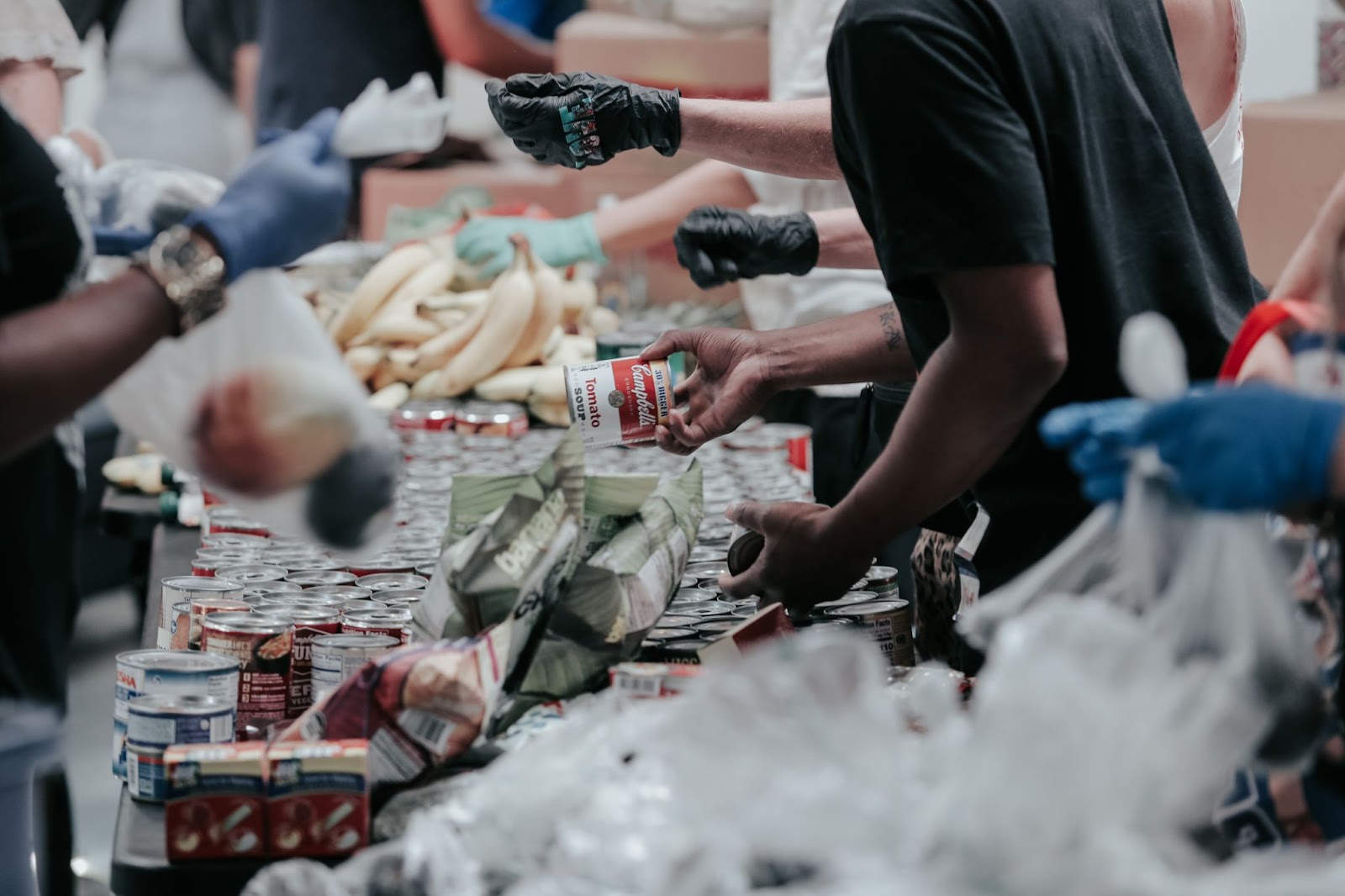 Donating Bitcoin enhances Bitcoin's main cause of bringing positive change to the world. Here are some nonprofits accepting crypto donations through the Crypdonate platform.
Light of Love
Light of Love is an association in India and currently works on two projects.
The first project is a school in Varanasi. An Indian couple set up a private school to help physically and mentally disabled children to access education from a young age to when they are done with school. Later on, the school also built an upper school for girls in the area as they noticed that there was no affordable way for them to access higher education. So far, the school supports around 400 children in the area, 70 of them with disabilities.
Besides the school, Light of Love also supports TseChokLing Monastery in Dharamsala, a safe space, home, and educational institution for 40 monks who fled Tibet. The monastery gives them a chance to live in India and learn until they are 18 when they can decide what to do next. Light of Love also extends its charitable donations to Tibetan children and families outside the monastery.
Eye Aid Africa
Eye Aid Africa is a health-based nonprofit in Cameroon that provides free eye care for the poor and underprivileged, especially those in remote parts of the country.
The organization provides its health services by holding quarterly mobile eye-care clinics in the remote and rural parts of Cameroon where people do not have access to healthcare, especially those with eye issues. Here, a team of doctors performs surgeries in fully equipped mobile clinics or treats eye-related illnesses and provides spectacles for those who need them.
Eye Aid has also helped to set up an eye clinic in Ambam in southern Cameroon, with the financial support of the Else Kröner Fresenius Foundation, which went into operation in March 2021.
Sacred Valley Project
The Sacred Valley Project is an education-based project in the Sacred Valley of Peru. The project makes it possible for young girls in the remote valley to access learning opportunities through the organization's school.
Usually, girls in the remote area do not go to school because of the lack of infrastructure to get to the schools since most of the schools are too far away. Young boys, however, can move to the towns to access education, while most girls remain at home. To help solve this problem, the Sacred Valley project has set up an education center with a dormitory where the girls learn and receive nutritious meals, post-secondary guidance, and mentorship.
The non-profit continues to provide a good community for the positive growth of the girls in Sacred Valley.
Endangered Species International
Endangered Species International is an environmental-based organization with offices worldwide.
The nonprofit works closely with communities and professionals to stop and reverse the human-led extinction of plant and animal species. Endangered Species International also aims to save endangered species and preserve wild places that are often home to different species.
Unlike many environmental conservation organizations, Endangered Species International involves the local communities in all decisions. This is particularly important to increase ownership of the projects, education, and an appreciation of how the endangered species help the ecosystem where the communities live in. The organization also fully embraces the use of green energy by using solar power in all their field offices to help reduce their carbon footprint in the places they work.
Aramaic Relief International
Aramaic Relief International is a nonprofit organization that provides humanitarian aid, with its focal point being war regions like South Sudan, Iraq, Syria, and Uganda.
The Christian organization works in places where the biggest aid is needed but often is not reached by international relief programs. They work with displaced people, poor, defenseless children, and families left vulnerable because of war. Some of the services they provide include distributing clothes, setting up food and shelter programs, providing medical support, and wetting up psychological and educational programs for orphans, war-affected children, students, and youth.
Some of the key values that Aramaic Relief International works with while providing their services include; neutrality, where they are politically, militarily, ideologically, ethnically, and religiously neutral. They also believe all human suffering should be prevented or alleviated and human dignity respected. Lastly, all the help they give is completely voluntary and independent.
Donating Bitcoin to any of these causes will make a difference to many lives and biodiversity worldwide. Below is how you can donate Bitcoin using the Crypdonate website.
How to Donate Bitcoin to a Nonprofit
You can donate Bitcoin using Crypdonate in a few easy steps.
First, head to our homepage and click on 'Charities' to look through our list of charities and choose the cause you want to donate to.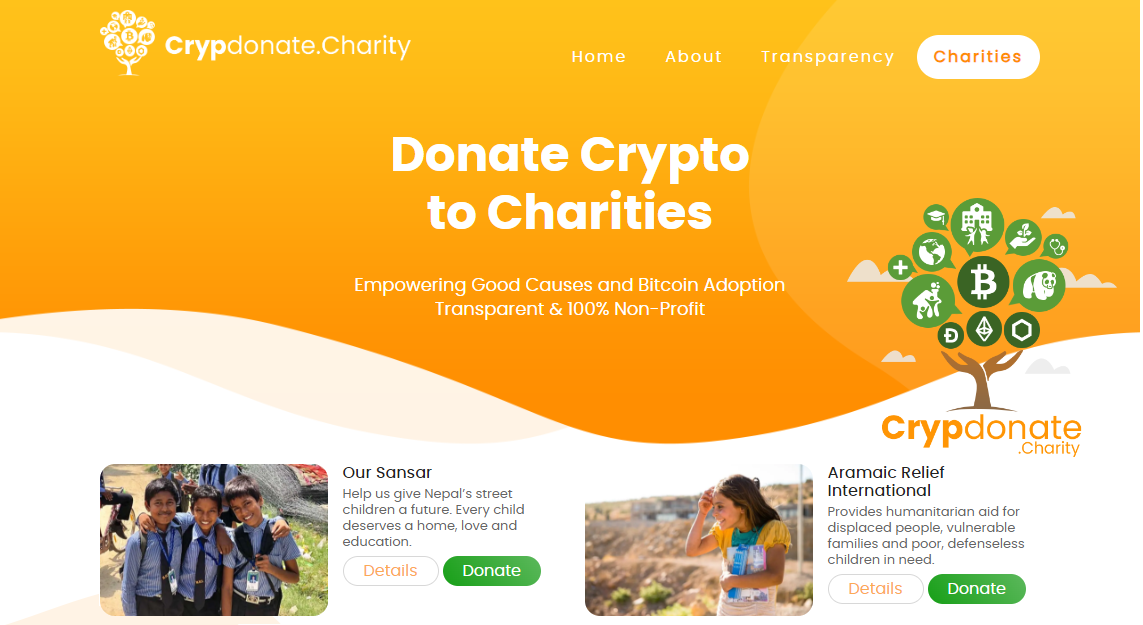 Next, click the 'Donate' button next to your charity of choice.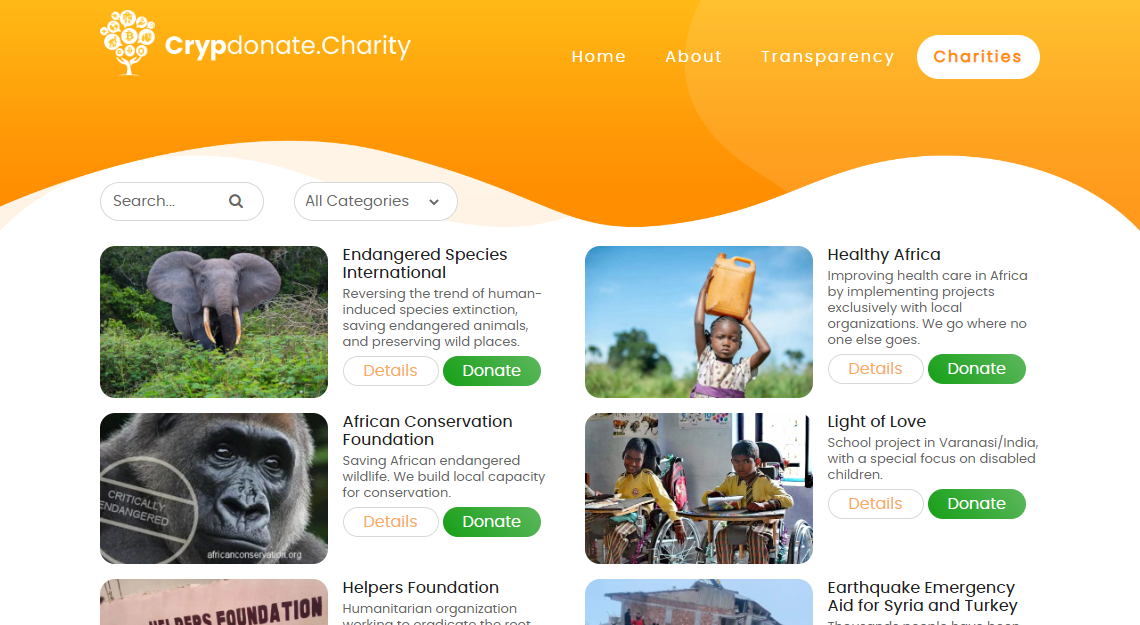 A pop-up will appear and ask you to read the terms and conditions before proceeding. After agreeing with the terms and conditions, click on 'Proceed to Donate'.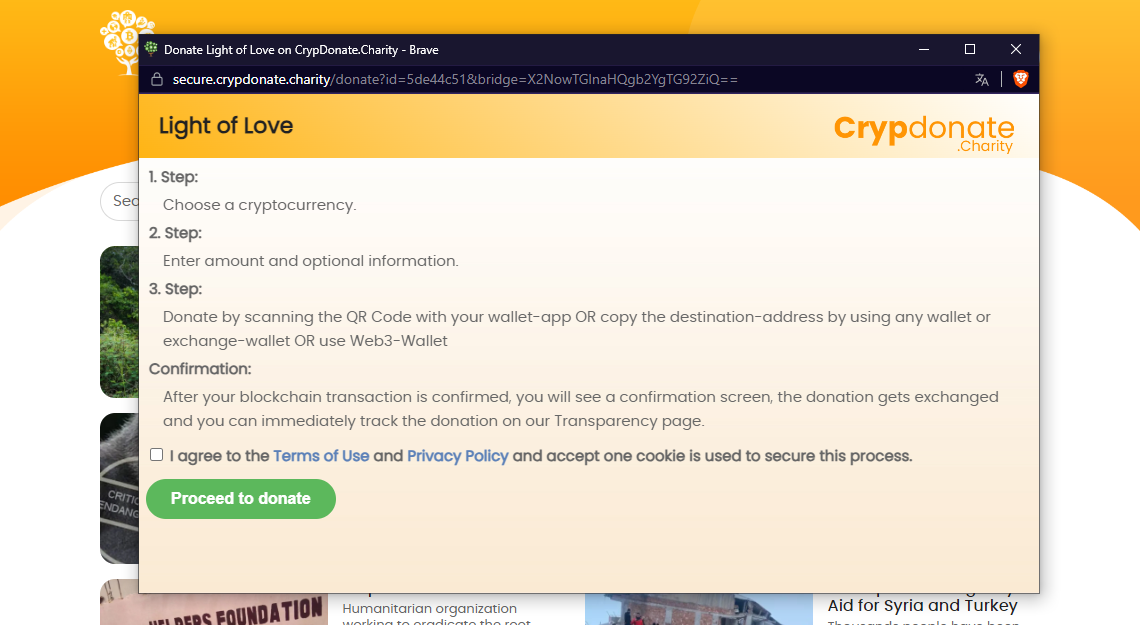 Choose 'Bitcoin' by clicking on its symbol on the list of cryptocurrencies listed in the next prompt. You can also donate Bitcoin using the Lightning Network by clicking on 'Bitcoin Lightning' on the same page.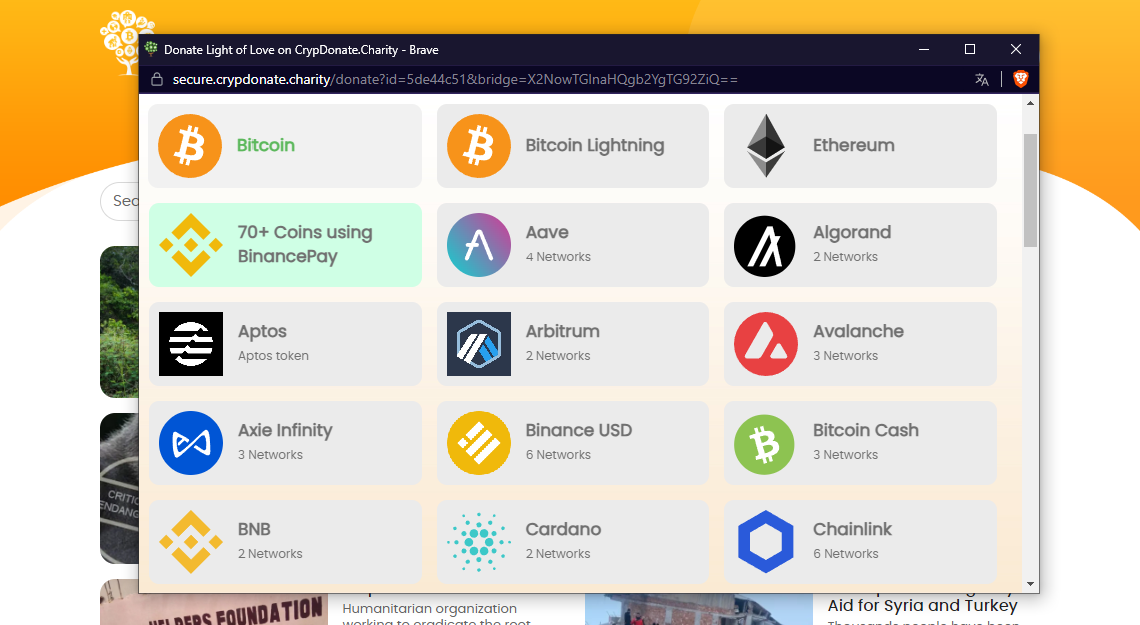 Next, enter the amount of Bitcoin you want to donate, and click on 'Donate'.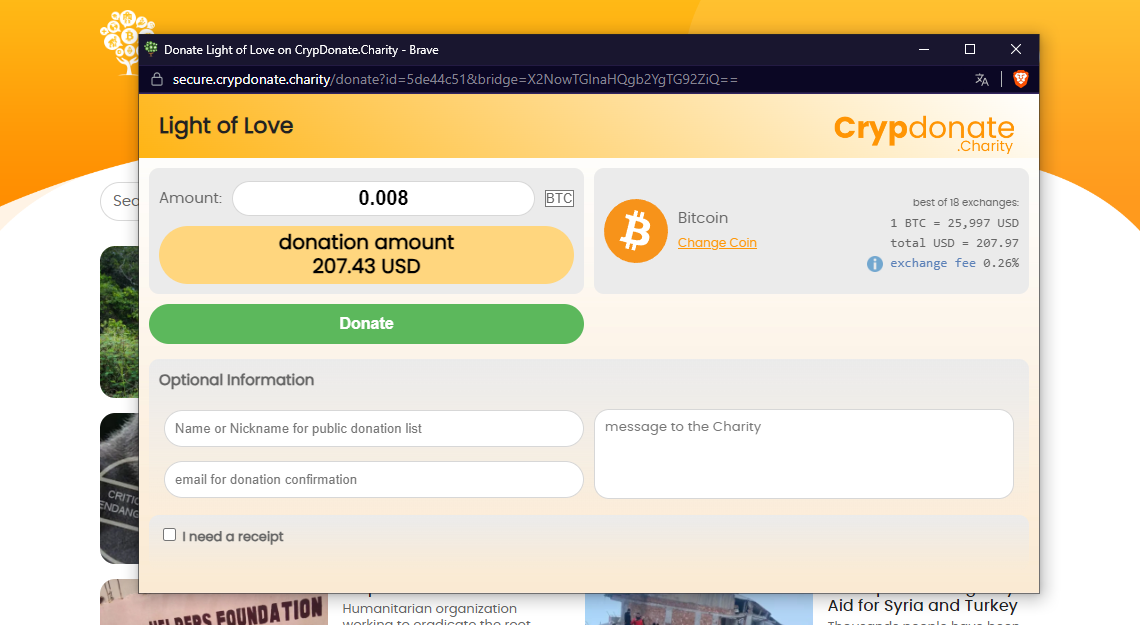 After that, a prompt will ask you to scan the QR code or send your donation to a specific Bitcoin address, which you can copy to your wallet-app to complete your transaction.
While doing this, please make sure to check that you have the correct address and also make sure that you are using the Bitcoin network for your transaction.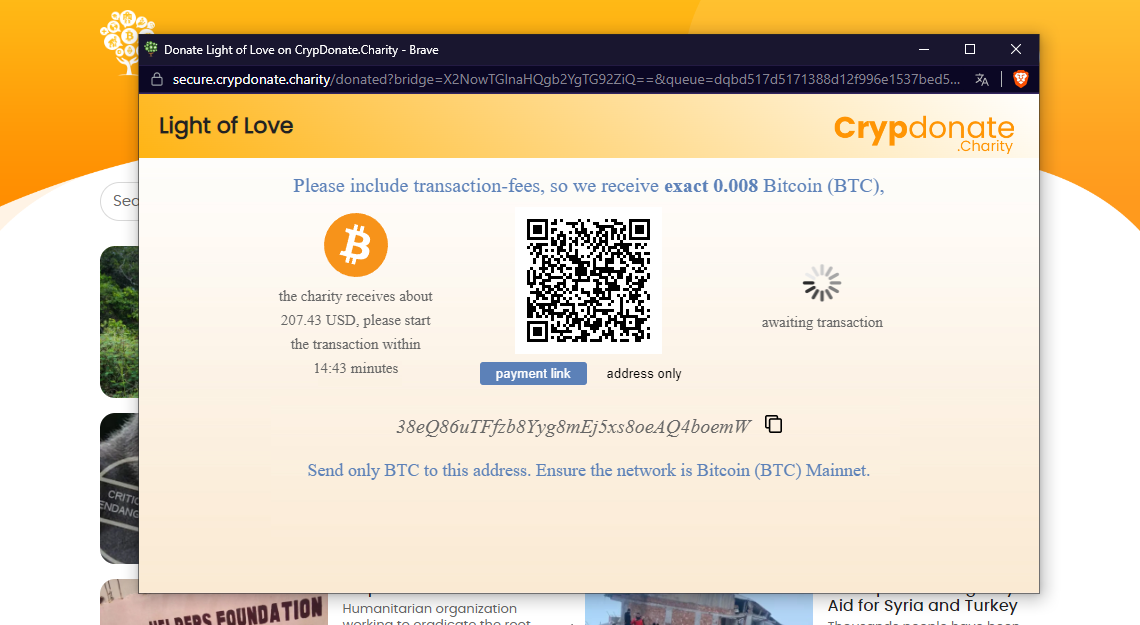 100% of all the Bitcoin you donate through Crypdonate goes directly to your charity or cause of choice. We don't take a percentage of the donations.
View all the nonprofits we work with to start donating Bitcoin and other digital currencies today!