Donate Ethereum to a charitable cause you believe in!
Donate with Ethereum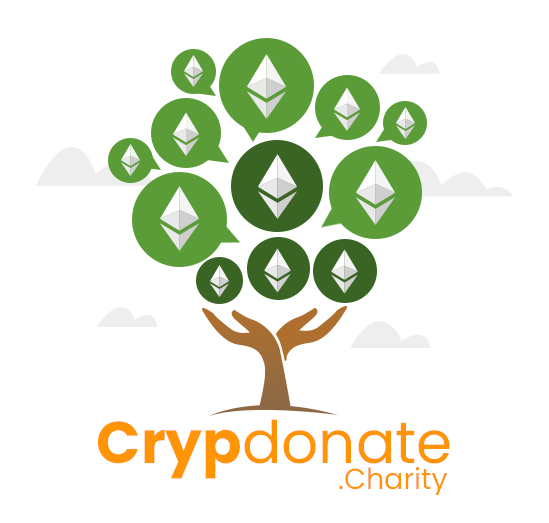 With over 1 million monthly users, Ether (ETH) is one of the top cryptocurrencies in the world, ranking second after Bitcoin.

Ethereum was started to bring smart contract capabilities to the blockchain. Following its launch in 2015, Ethereum emerged as the leading smart contract-enabled layer-1 blockchain.
Ethereum users have also been seen as the biggest cryptocurrency donors, with some crypto donation platforms citing ETH as the most donated cryptocurrency in 2022.
The Ethereum community is also considered one of the most active in the cryptocurrency space, with millions of users and thousands of developers.
Donate Your Ethereum to Charity!
Where to Donate Ethereum (ETH)
While donating Ether is easy, you may not know where you can donate your ETH since a lot of charities don't support cryptocurrency donations. However, at Crypdonate, we work with different kinds of charities and causes worldwide and can help to connect you to a cause close to your heart.
Through our site, we connect different charities with crypto users, including those who prefer using Ether over other cryptocurrencies. The charities we support work with different causes ranging from environmental conservation projects, health and safety projects, and even supporting children through education projects and more.
Below are details of some of the projects we currently support.
Emergency Aid – We set up emergency aid for natural and man-made disasters as they occur. This helps to increase support for the many organizations that work in these emergency situations. Some of the emergency situations we have been able to support include raising funds for the Sudanese war victims and emergency aid fundraising for earthquake victims in Syria and Turkey.
Endangered species and conservation efforts – We support various environmental projects, including those working with endangered species across the world and those restoring or protecting natural habitats.
Education projects – Many of the projects we support seek to provide education to marginalized and rural communities. Some of the projects work with children in rural areas worldwide, while others work with orphans or even disabled kids by making sure they access the same opportunities as other children.
Health-based projects – Some of the projects we work with are healthcare-based, ranging from increasing health coverage in marginalized areas to providing specific healthcare, like eyecare, to communities around the world.
All the causes we support are run by individual organizations who don't have the technical capacity to set up their own cryptocurrency donations channel.
How to Donate Ethereum (ETH)
Donating ETH to any of the charities we support is a straightforward process. Furthermore, all your donations will have no service charge from our team, making sure that 100% of what you donate goes directly to the charity of your choice.
Here's how you can donate Ethereum in a few easy steps.
Head to our homepage and click on 'See all Charities' to look through our list of charities.
Choose the charity or cause you would like to donate to.
Click on the 'Donate' button that is next to the details of the charity you are giving to.
A pop-up will appear with instructions on how you can donate Ethereum and will ask you to read through the terms and conditions before proceeding. Once you agree with the terms and conditions, click on 'Proceed to Donate'.
You can then choose 'Ethereum' by clicking on its name and symbol on the list of cryptocurrencies listed in the next prompt.
Next, enter the amount of Ether you would like to donate, then click on 'Donate'.
You will then be asked to either scan the QR code or send your donation to a specific Ethereum address belonging to the charity, which you can copy to your wallet of choice to complete your transaction. While doing this, please make sure to check that you have the right address and also make sure that you are using the Ethereum network for your transaction.

Preserve Value with Minimal Loss
Crypdonate doesn't take any commission from your donation. The sole deduction incurred involves an inevitable exchange fee managed by reliable exchange partners.

Unveil True Transparency
Thanks to the power of blockchain technology, each donation you make is transparently traceable here. We bolster this transparency by providing bank transfer receipts. Your contribution sets forth a trackable and accountable impact.

Driving Bitcoin Adoption
Our objective is to empower charities to embrace a Bitcoin-based circular economy. The acceptance of Bitcoin Donations is the first step on this journey. Encouraging organizations outside of the bitcoin world is crucial for true adoption.

Handpicked and Trusted Charities
Our commitment lies in supporting transparent charities with minimal administrative expenses. Your donation flows to organizations that genuinely make a difference, ensuring your generosity finds its way to where it's needed most.

FAQs
Can I donate Ethereum?
Yes. Ethereum's Ether (ETH) is a cryptocurrencies that can be donated to charitable cause. This is because Ether operates like any other digital currency and can be seamlessly transferred between individuals and to organizations.
How do crypto donations work?
If you want to make a crypto donation, all you need to do is figure out what cause you would like to donate to and if they accept crypto donations. Then, you need to figure out which cryptocurrency you would like to donate and if the charity you want to donate to accepts your cryptocurrency of choice. Lastly, check the relevant wallet address belonging to the charity before sending out your donation or use the charity's crypto payment provider's donation platform.
How do I donate crypto to a nonprofit?
You can donate crypto to a nonprofit by identifying which way they accept cryptocurrency donations. Most nonprofits will provide you with a wallet address to send your donation or they will use a crypto payment provider to seamlessly accept payments.